HAUL ROADS
TechFab India products for High-Quality Haul Roads : Basal Reinforcement and Superior Drainage Systems
EXCELLENCE THROUGH INNOVATION
APPLICATION OVERVIEW
A haul road (also haulage road or haul track) is a term for roads designed for heavy or bulk transfer of materials by haul trucks in the mining industry. Our Geosynthetic products allow construction of haul road by providing basal reinforcement and efficient drainage.

Enquire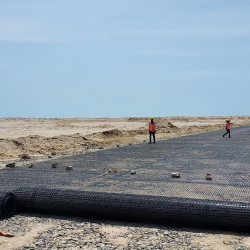 EXCELLENCE THROUGH INNOVATION
VARIANTS
TechFab offers a range of geosynthetic products for haul road construction, including basal reinforcement geogrids, efficient drainage geocomposites, and durable geotextiles, ensuring strong and reliable infrastructure for heavy material transfer.

TALK TO THE BEST
Speak to a TFI Expert
Contact our Technical Expert to learn more about our offerings. Our experts are ready to assist you for your specific project requirement. Get in touch now!
Explore