ROCKFALL BARRIER
Cost-Effective Solutions for Protecting Infrastructure and Lives from Rockfall Hazards
EXCELLENCE THROUGH INNOVATION
APPLICATION OVERVIEW
Rockfalls are a natural occurrence in hilly terrains, influenced by climate change, weathering, rainfall, seismic events, and blasting. In challenging locations where traditional rockfall mesh and anchor systems are unfeasible, Flexible Rockfall barriers offer cost-effective solutions to safeguard infrastructure and human life from rockfall hazards, overcoming topographic, economic, technical, and construction feasibility constraints.

Enquire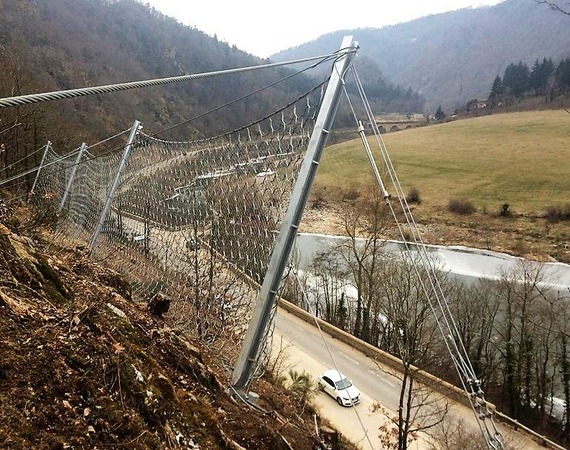 EXCELLENCE THROUGH INNOVATION
VARIANTS
TechFab India provides the flexible rockfall barrier which is the combination of anchors for barrier anchorage, base plates, posts, intermediate and lateral support ropes, bearing mesh and brake system. Flexible Rockfall barriers are passive structures that allow system deformation for stopping block with impact energy – by increasing deformation the energy system is gradually dissipated through the braking systems.

TALK TO THE BEST
Speak to a TFI Expert
Contact our Technical Expert to learn more about our offerings. Our experts are ready to assist you for your specific project requirement. Get in touch now!
Explore